Install Procedure
Note
BrandsSync 1.0.0 is designed and tested only with Magento 1.9.x.x. Magento 2.0 is NOT yet supported
After having purchased and downloaded BrandsSync plugin package you have to install it via Magento Connect.
From your Magento Admin area go to System -> Magento Connect -> Magento Connect Manager.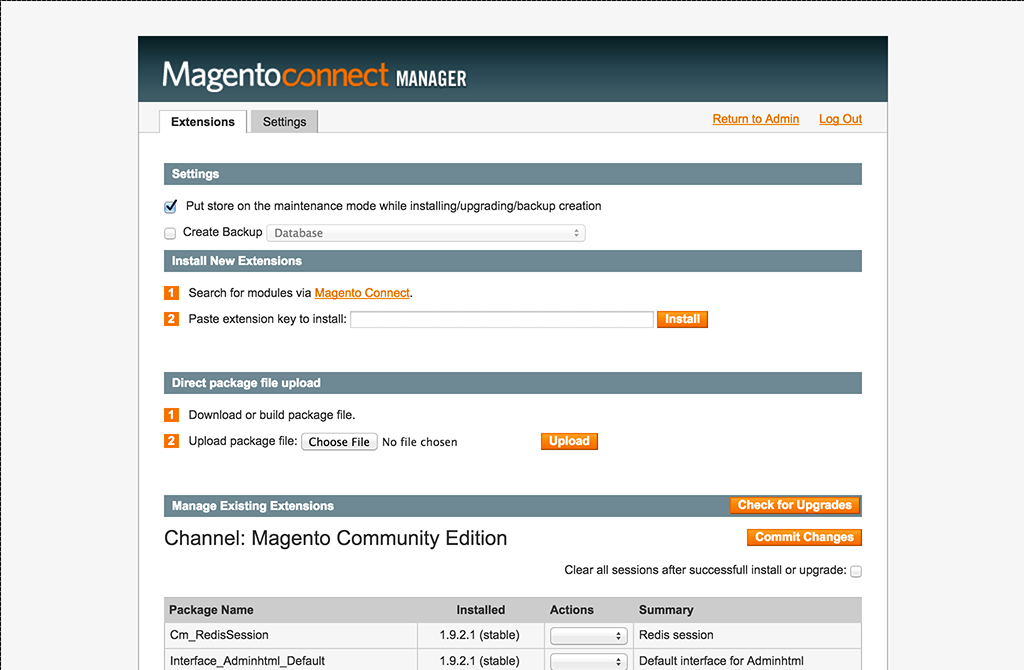 From Magento Connect Manager, in the section Direct package file upload choose the plugin .tgz file you have downloaded and press Upload.
After this, you will have your BrandsSync plugin installed in your Magento.
Cronjob setup
Be careful: BrandsSync Extension needs Magento cron to be configured and executed periodically via the operating system cron job management. In order to set up cron jobs refer to the official Magento setup guide at this link. We advise to set the cronjob at least every five minutes, this way the plugin will be faster while importing products from supplier.
Update Plugin
Installation & Upgrade via File upload
From your profile download the plugin package
(Note: If you are updating from an older version make sure to uninstall the old version before installing the newer version)
Load the new package into the Magento Connect Manager using the Direct package file upload feature (as described above). This will trigger the installation of the extension.
Click "Refresh" at the end of the installation step, and you should see BrandsSync in the list of installed extensions.
Scroll to the top and click on Return to Admin link to return to your store administration console
ADVICE: You may need to log out of the Magento admin and log back in to avoid permissions issues.
Installation & Upgrade via FTP
If direct package file upload is not available in Magento Connect Manager, you can perform the installation via FTP:
Log out of Magento
Unpackage the *.tgz file onto your computer. If you received a *.zip file from us, unzip the file, and then unpackage again the *.tgz file
Upload via FTP the two folders app and skin folders to your Magento root folder, which already contains two folders with the same names. In other words, you will be adding new folders and files to those two folders, which already exist.
Log into Magento and clear the Magento cache under System
You should be able to use the BrandsSync extension
For more detailed instructons on how to install an extension manually via FTP, please see this resource